Regular price
Sale price
$33.00 USD
Unit price
per
Sale
Sold out
Rebirth Spell Jar Made By Lagrimas De Oro & Maracuya Botanicals 
Rebirth Spell Jar Is Here To Aid You Through Your Rebirthing Process. Life & Death Is A Cycle In Our Life That Manifest Itself In Many Different Ways. We Kill Parts Of Ourselves In Order To Make Room For New Abundance & Lessons. Each Element Is Placed In These Jars With Deep Connection To The Inner Work We Are Calling In.  

As you flow through the transitions of your journey you experience the natural physical and emotional feelings associated with death and rebirth. Although it may be met with uneasiness; parting with old versions of yourself is nourishment for your higher self. These rebirth spell jars are curated to support you along your journey as you transcend to new dimensions.
Each Beautiful Light Blue Jar Is Unique & One Of One Made With Love & Deep Intention 
Each Jar Contains:
Pomegranate To call in sacred sexual & fertile energy. This ruby red fruit brings light to your creative essence in the physical and spiritual realm.
Rainbow Fluorite To cleanse your aura and space from outside energy that does not serve in the energy you are calling in 
Passion Fruit Leaf To call in abundance, growth, and light energies. This plants growth pattern is intensely focused on searching for sunlight and growing by any means necessary.
Lavender To call in gentle, soothing, and calming energies to your journey of rebirthing and transformation.

Salt

for cleansing 
Sugar for Sweetness on the journey ahead
Black Tourmaline to provide grounding & protection during your rebirth 
Share
View full details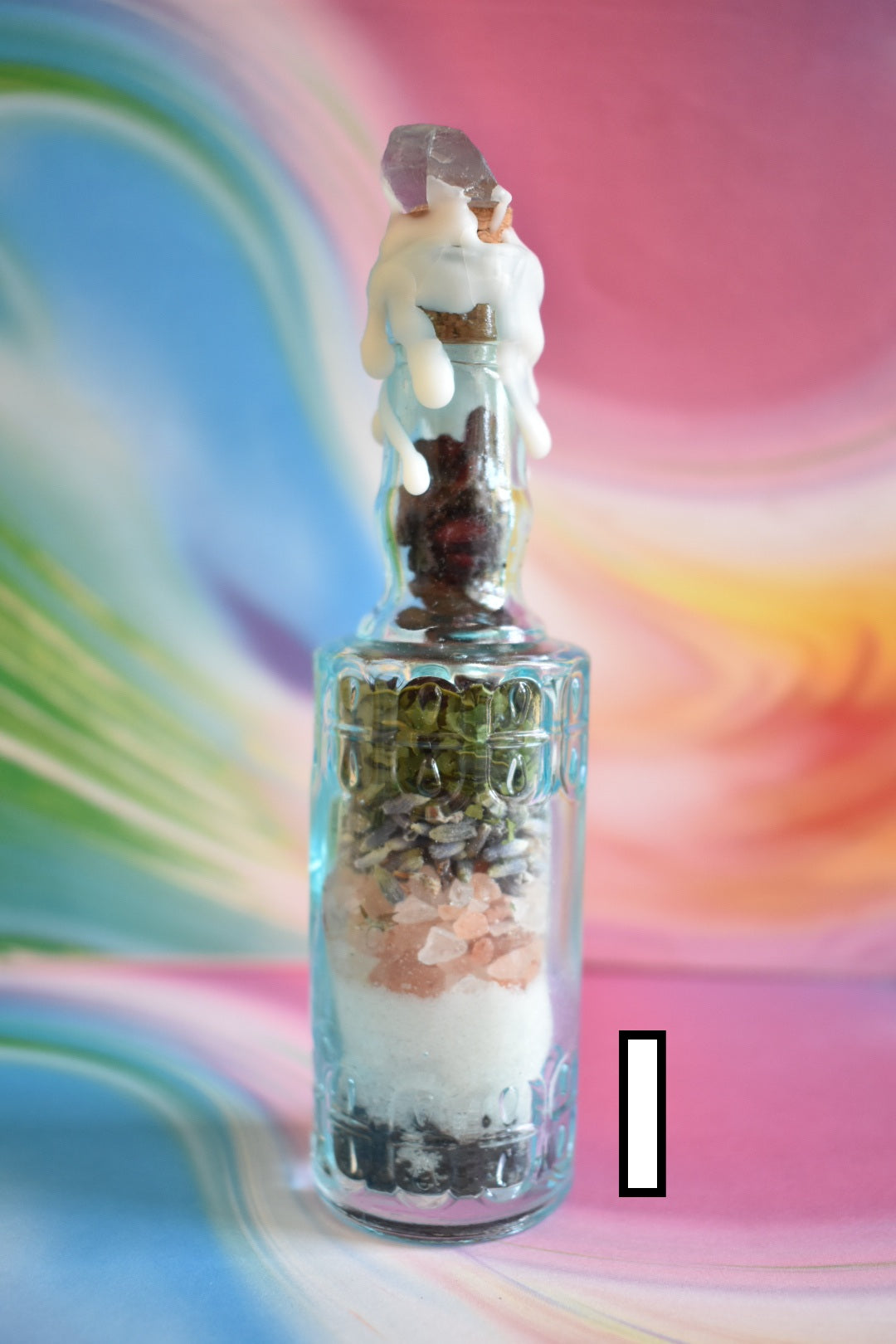 "Lagrimas De Oro Is Energy Adornment Helping People Connect To Themselves Through Spirituality & Self Expression"